Writing, art, and letters by Lucy Sullivan.
Instagram: @lucysullivanuk
Twitter: @LucySullivanUK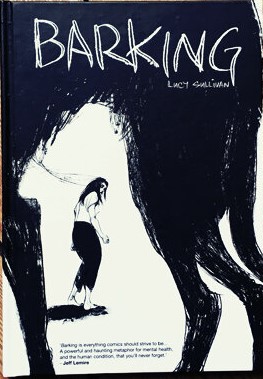 Valentine's Day, 2020. Looking forward to a pleasant evening with my good lady when, on the train back from Oxford she called to say that a particularly feisty pothole on a dark country road had ripped a hole in her tyre and she was waiting for the RAC to arrive.
An hour later I was sending her home in my car while I settled in for a lengthy contemplation of the rain beating on the window and an obscured view over a darkened Cheltenham.
Not perhaps the evening I had in mind but, the consolation was that I had an Awesome Comics Podcast downloaded and ready to come in my ears. In that particular episode, Lucy Sullivan was the guest talking about her soon to be released book, Barking.
I've read enough comics, and especially indy comics, now to know that I can enjoy almost any type of story – not just the superhero books that I used to read back in the day. So, the semi-autobiographical story that Lucy depicted and the insight into her experiences sounded intriguing. Looking it up there and then, I immediately loved the artwork – a real must for me to invest in a book properly.
It took me  awhile to get hold of the book and I kept checking in on the samples of amazing at that Lucy was posting – the slightly frantic scratching of the pieces was evocative of confusion and anger – I later discovered this was exactly the right tone.
When the second printing came along, I ordered a copy and was interested to get an email from Lucy with a playlist to go along with the book – I held off reading it until I had time to sit down with both.
First off, let's talk about that artwork. I really enjoy an expressive line in comic art – sure the clean-cut stuff can be great, but the art in Barking is so perfectly in keeping with the story – urgent,  challenging, and at times hard to decipher. Despite the fact that anatomy and perspective aren't at all text book, Lucy's background in art allows her to convey both movement and tone in a way that says 'I know this looks a little off kilter, but I know exactly what I'm doing'. And she does.
I just want to dwell on that point about the art being sometimes hard to work out. Lucy is very clear about her struggle with mental health and this is of course a key strand of the story, and although I've not suffered in the same way, the sense of being overwhelmed and unable to process everything that's happening is perhaps something many of us have experienced. So, the fact that we, as readers are challenged to makes sense of the apparently scrawled images which overlap and interact making some more difficult to read seems to be a direct depiction of a sate of mind and one which is handled beautifully.
It's no spoiler to say that the story opens with the main character, Alix, in crisis – on a bridge and wrestling with the darkest of thoughts. Thoughts which soon take on shape and being and which become an important device in the tale: the 'Black Dog' is an age old manifestation of depression but here it takes on a slightly different role and is a constant and brooding presence.
Although the cause of Alix's crisis seems pretty clear, for me that was called into question towards the end of the book but I'll let you see what you think and not discuss the resolution here. Perhaps the best way to talk about it is through the soundtrack, which starts loud and brash with music that insists on filling your head, adding to the sense of disturbance and at times making it hard to concentrate on the text – once again, all contributing to the mood and experience of reading Barking. As it progresses, the playlist becomes infused with a melancholic introspection which I really enjoyed (oddly, I suppose) and, about two thirds of the way through everything takes on a more hopeful, uplifting vibe. All in all, it brought a whole new dimension to reading the book for me – fantastic.
There's a lot more I could say about 'Barking', but probably the most useful thing is to recommend that you go get yourself a copy, download the playlist, sit and enjoy every dark, frantic, chaotic page of what is a classic comic.