on
August 22, 2017
at
11:09 pm
With only a couple of hours to spare on Sunday morning away from the seemingly never-ending project to reinvigorate the Chez Couling cludgy, I knew I needed to spend it wisely – a trip to the True Believers Comic Festival Summer Variant was an obvious choice; particularly as it was in Gloucester, only a few miles from home. You can check out the main True Believers site right here.
Given everything else that's going on, I hadn't had time to properly check who was going to be at the con, but, having been to the previous Summer Variant and the main TBCF, I had a sneaky suspicion that Mr Mulrain was unlikely to throw me a furball. And so it proved.
I was a little too keen and, after being kicked out for trying to get in before the event opened and spending fifteen minutes looking for a sale at Poundland, I was one of the first through the door.
The venue was fantastic – the 13thC Blackfriars Priory is somewhat tucked away but if some lanky kid in a Spiderman costume can find it, so can you (next time. Obviously don't go there now as the wedding that's happening won't know what to make of your Punisher cosplay rig). To be fair, the Spidey cosplayer did turn some heads as he literally sprinted down the alley from town to the venue – I didn't see who was chasing him; presumably a guy in a stripy jumper with terrible skin.
Anyhow, the main hall where the comic tables were set up was great being both huge and historically interesting – an improvement over the previous years' location which, despite hosting far fewer tables, was somewhat cramped (although they did do a good sarsaparilla…Check out Smokey Joe's if you have no idea what I'm talking about).
The creators on display were great and I had a fantastic chat with Robin Etherington before snaffling a couple of books to be given as presents later this year. Robin and Lorenzo really have the con thing off to a fine art – they were totally on point with levels of enthusiasm and engagement I haven't experienced outside a cheerleader convention. This was epitomised when Jack, an 11 year old fan of their creation "Von Doogan", turned up in wicked cosplay and then produced a near perfect Von Doogan page he had created with his dad. If you don't know the work of the brothers E (and you should), you can catch up with them here.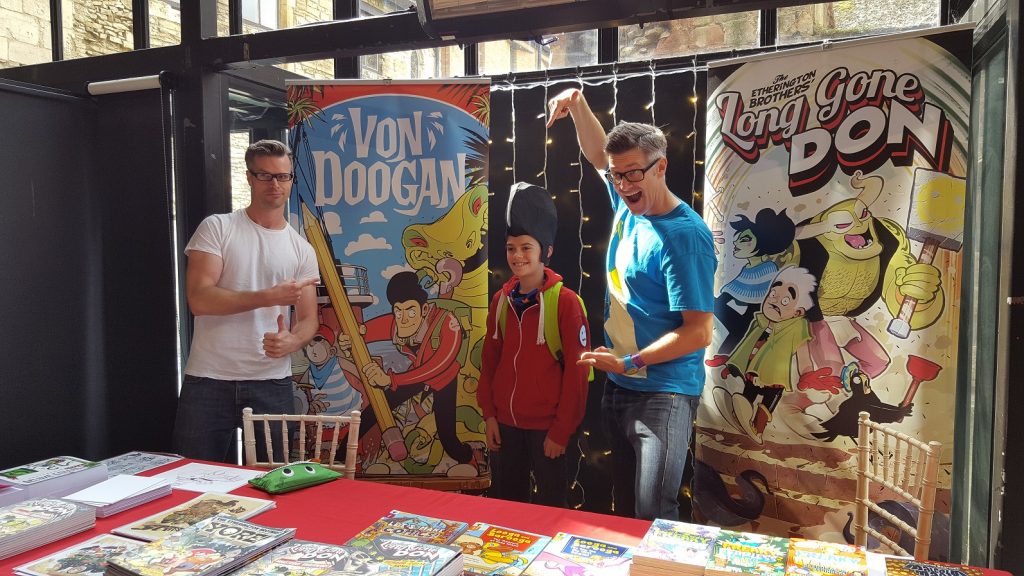 After spending quite some time with those guys and their being very complementary about some of my work (after I bought the books btw so I'm convinced it wasn't a sales tactic), I moved on to chat to Ben, the manager of Proud Lion, the local comics' emporium. Super helpful (despite mashing his finger in con-prep nightmare hell) and helped me sort out how to get hold of the end of Chris Wildgoose's Batgirl run. I also picked up a mint second-hand copy of "Low, Vol 1: The Delirium of hope" for a very reasonable price. I've never seen this book before but as soon as I looked inside, the art worked it's magic and money changed hands – check it out here.
After securing that little beauty, I sidled up to the table of the unassuming Mr Prolix. I've been following his antics since the announcement of Cockney Kung Fu (a collaboration with Tony Esmond of The Awesome Comics Podcast fame. What do you mean you don't listen to the ACP? Shame on you! Go subscribe here right now! Unless you're under 18, in which case just move on; there's nothing to see here…) and you can sign up to the mailer for that feisty little drunken master of a project here. Nick was good enough to show me some of the pages and they are looking fantastic – can't wait to see it in print! I grabbed "Slang Pictorial 1 & 2" while I was loitering (I paid, of course) and had to laugh at Nick's unique (for comic cons) £#.99 pricing strategy – pretty sure he's the only guy who's cash tin contained pennies…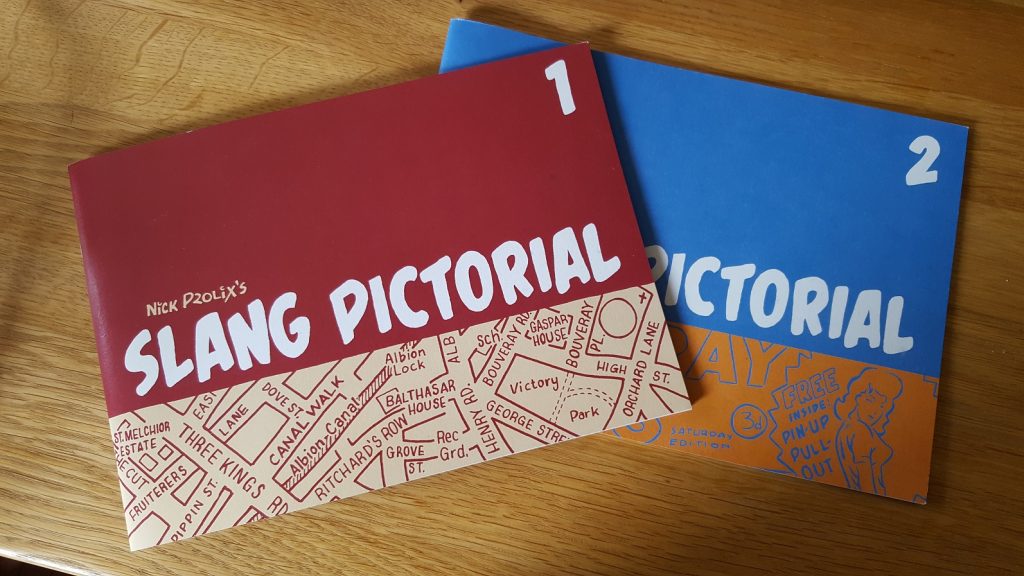 Next up was a visit to the several longbox tables, although no luck restocking my original Secret Wars run – I'll get there in the end, although #8 could be a bit pricey apparently…
At the other end of the hall was a raised area where the mighty Milmo (Sarah Millman for those of you who don't listen to the ACP) had set out her stall. Sarah was great to chat to – really engaging and enthusiastic about her work and comics in general. I hadn't realised she was an artist full-time which is pretty freakin' cool – good for you Milmo! As soon as I finish this post btw, I'm off to read "NPC Tea #1". I know I'm behind the times but you gotta start somewhere right! Go visit Sarah here for a dose of Milmo magic.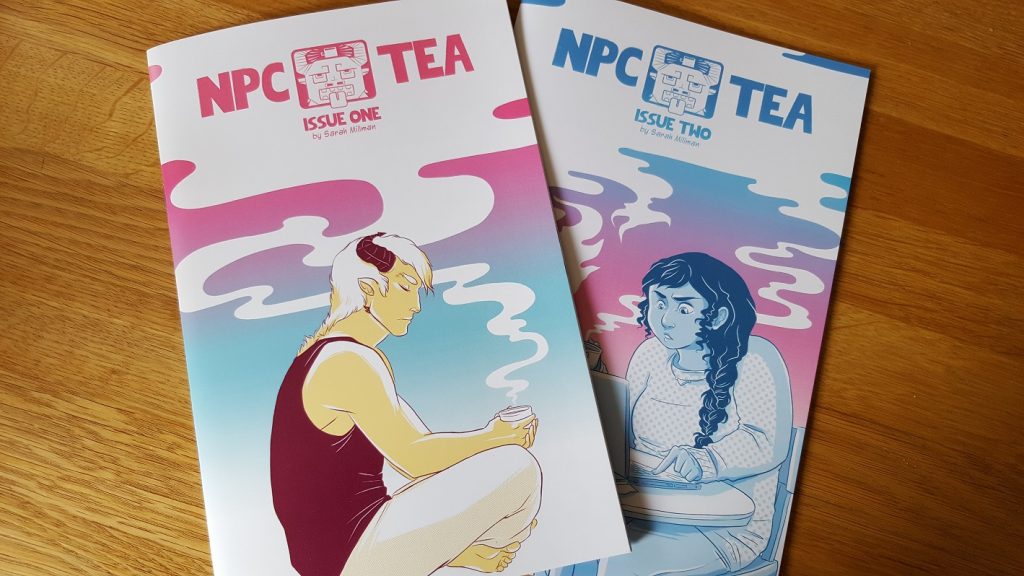 All in all a great couple of hours which resulted in a nice little haul of goodies which I'm desperate to get reading so that's your lot kids – catch you next time!
Kev